Metal Buildings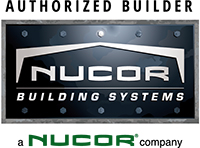 At Nasi Construction, our metal buildings are custom-designed by Nucor Building Systems to meet your unique needs. With virtually endless design possibilities, it is easy to see why metal building systems have become such a popular and cost-efficient building solution for commercial properties in our area in a wide range of applications.
Why Choose a Metal Building?
Steel is the strongest and most cost-efficient construction material available. Our metal building solutions utilize steel by Nucor Corporation, which is 100% recyclable and made up of over 70% post-recycled content. This makes it one of the most environmentally friendly options available on the market. Our custom steel buildings offer clear advantages compared to conventional structures:
Cost Effective
Increased Longevity & Minimal Maintenance
Fast & Efficient to Build
Flexible & Versatile
Numerous Design Options
Ease of Expansion
Environmentally Friendly
Build Process
Our steel building systems are designed by professional engineers using the industry's most advanced technology. This simplifies construction and significantly reduces construction time. Select any image to view larger.